Phoenix, AZ – AtlasIED—a global manufacturer of comprehensive audio solutions for commercial environments, announced today that its "Atmosphere™ System Reveal Video" has been named a Silver Winner for Branded Content in the 42nd Annual Telly Awards. The Telly Awards honors excellence in video and television across all screens and is judged by leaders from video platforms, television, streaming networks, production companies and including Netflix, Dow Jones, Duplass Brothers Productions, Complex Networks, A&E Networks, Hearst Media, Nickelodeon, ESPN Films, RYOT, Partizan and Vimeo.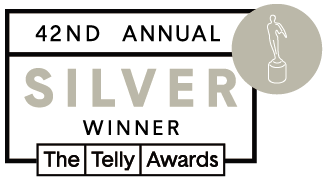 The winning AtlasIED video highlights through creative production and filming the innovative components and features of the company's new Atmosphere™ digital audio platform. Interesting camera angles and lighting effects convey the advanced technology behind the modern, industrial design of Atmosphere™ processors, controllers, and other equipment. Dynamic, engaging, and set to an energetic selection of music, the video effectively inspires audio professionals to capitalize on the benefits delivered by Atmosphere as a technologically advanced yet simple-to-use digital audio system in hospitality, educational, retail, and other commercial environments and portrays AtlasIED as a leader and pioneer in the digital audio industry.
"In the face of a year like no other, AtlasIED has continued to defy the limitations of our new world, in continuing to create compelling and engaging work", says Telly Awards Executive Director Sabrina Dridje. "This year's submissions doubled down on what we already know about the industry. Creativity cannot be stopped. Collaboration will always prevail. New ideas and stories will always find a way to break through to an audience."
Adds AtlasIED VP of Marketing & Corporate Communications Gina Sansivero, "Video is a wonderful platform on which to express our enthusiasm for this groundbreaking line of digital audio products and demonstrate our commitment to fostering new opportunities for professional integrators serving the commercial audio industry. We are particularly proud of this effort, as it was produced entirely in-house where we pushed the limits of our capabilities to develop a new, exciting way to draw attention to AtlasIED's engineering, product development, and marketing talents. The entire team came together to create something special and conveys the dynamic personality of our company and our mission to be a leader in product development."
The following individuals from AtlasIED were intricately involved in the conception, production, and delivery of the silver-winning Atmosphere™ Reveal Video: Tim Ivy, video producer; Kevin Sykes, 3D artist/designer; Jesse Stamm, digital campaign manager; Brad Horn, designer; and Gina Sansivero, VP of Marketing & Corporate Communications.
Today's announcement of the Telly winners caps a year-long celebration of creators defying the limitations by embracing platforms to increase awareness about injustices and promote solidarity for movements, as well as geographical, like developing fully remote pipelines for dispersed teams. This year also saw the continued expansion of new categories to reflect and celebrate new forms of producing work in light of the past month's restrictions and limitations. New categories included Remote Production, Virtual Events & Experiences, and an increase in animation categories.
Last year, The Telly Awards attracted more than 12,000 entries from top video content producers including Adobe, Adult Swim, the BBC, Condé Nast, J. Paul Getty Museum, PBS, Playstation, RadicalMedia, T Brand Studio, Ogilvy & Mather, and The Walt Disney Company. The full list of the 42nd Annual Telly Awards winners can be found at www.tellyawards.com/winners.